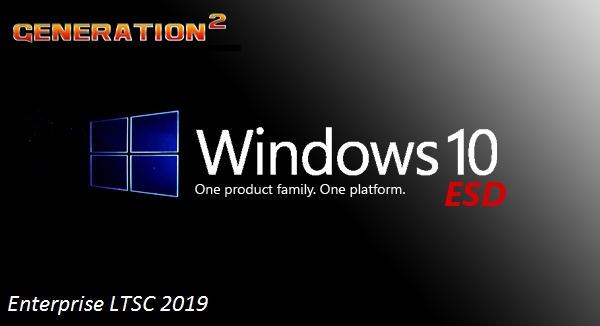 Windows 10 Enterprise LTSC v1809 Build 17763.1075 (x64) 03.2020
OS : 64 bit | Language : Russian / English | File Size : 4.82 GB

The build is based on the original Microsoft Windows 10 Enterprise LTSC 2019 x64 image. Integrated current updates available on March 6, 2020 and a package of necessary programs. Build upgraded to version 17763.1075. Changed the system interface. At the initial stage, there is a choice of one of the two languages ​​of the installed system. Read more below.
Build Features:
• To reduce the size of the author's image (8.29 GB), the x86th edition was removed;
• The basis of the assembly of the original ru_windows_10_enterprise_ltsc_2019_x64_dvd_78e7853a.iso;
• Install.wim file is compressed into ESD format;
• All default settings;
• Integrated NET Framework 3.5;
• Added PCM tweaks (right mouse button);
• The system interface has been changed: the appearance of folders, icons, shortcuts, some dialog windows;
• Integrated updates and the necessary set of programs of the latest versions;
• WinPE-installer for Windows was built based on Win 10 1709_16299.15;
• For convenience, the boot menu contains a set of additional utilities for working with disks / partitions, backup and recovery (all programs are integrated into the WinPE installer core itself);
• There is support for loading in UEFI mode (of course, support for loading in UEFI mode is only for media formatted in fAT32 fATs);
• Only automatic installation is possible;
• The system will already be activated automatically;
• Thanks for using the sergeysvirid ® bootloader;
• Record with Rufus.
Integrated:
• µTorrent 2.2.1.25534
• 7-Zip 20.00 alpha
• Adobe Flash Player 32 ActiveX & Plugins 32.0.0.321
• AIDA64 6.20.5300
• CCleaner 5.63.7540
• Microsoft Visual C ++ 2005/2008/2010/2012/2013/2017/2019
• UltraISO 9.7.2.3561
• Unlocker 1.9.2
• WinRAR 5.80
Treatment:
• The system activates automatically.
• If activation failed, the Help folder with activators on the desktop:
– AAct 3.2 DC 03/11/2017 Portable
– KMSAuto Lite Portable v.1.2.2
System requirements:
• Processor: At least 1 GHz or SoC.
• RAM: from 2 GB
• Hard disk space: 20 GB
• Video adapter: DirectX version 9 or later with the WDDM 1.0 driver.
• Display: 800 x 600.
Whats New
February 25, 2020-KB4537818
Highlights
Updates an issue that prevents the speech application from opening for several minutes in a high noise environment.
Improves the accuracy of Windows Hello face authentication.
Updates an issue that might prevent ActiveX content from loading.
Improves the battery performance during Modern Standby mode.
Updates an issue that prevents you from taking a screenshot of a window.
Updates an issue that adds an unwanted keyboard layout as the default after an upgrade even if you have already removed it.
Updates an issue that prevents users from reactivating their copy of Windows using the product key stored in their Managed Service Account (MSA).
Updates an issue that prevents some applications from printing to network printers.