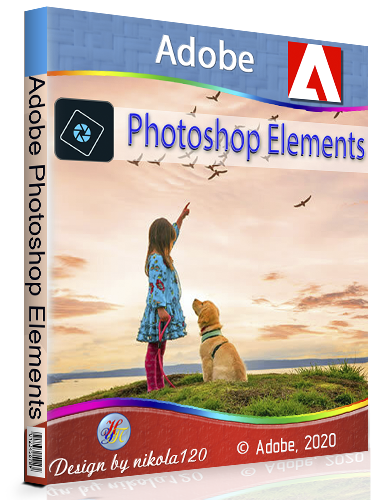 Adobe Photoshop Elements 2021 19.0 x64 Final | 3.81 GB
Adobe Photoshop Elements allows you to edit images using the multi-function easy to use tools.
It helps to make normal pictures are real masterpieces, which you never cease to admire.
Show your best photos via automatically created collages and improve them with the help of an intelligent editing functions.
Easily Organize your photos and share them with family and friends by conventional methods.
With Adobe Photoshop Elements tools to create beautiful photo effects, fun slideshows and creative collages are always at hand.
Thanks to automated editing functions in Adobe Photoshop Elements, and step by step instructions, you can create stunning photos. To create a first draft, check out the inspiring ideas, tips and guides on the main screen.
List of changes:
What changed build author:
– Build collected based on a stand-alone installer Adobe version 5.3.0.468, inaccessible to the public.
– From the installer except for the minimum necessary cut module Adobe Desktop Common, set by the original installer to fail.
– From the installer is completely cut module Adobe Creative Cloud, set by the original installer to fail.
– Installer provides a selection of the installation path and the language of the interface, as well as the ability to start the program immediately after installation.
– Enable the ability to install software on Windows 7, Windows 8 and Windows 10 junior versions.
– In Windows 7 installer in stand-alone mode integrates certificate advanced electronic signature Adobe.
– The distribution is added excluded from this version developers Russian interface (borrowed from Photoshop Elements 2020).
– Updated support module Adobe Camera Raw to version 12.4.0.148.
– Updated Adobe CoreSync auxiliary module to version 4.3.57.2.
– The program is already disinfected. It can be used immediately after installation.
System requirements:
• 64 bit versions of Microsoft Windows 10 (Recommended in 1809 or 1903) or Windows 8.1; 64-bit version of Microsoft Windows 7 with SP1 (works with reservations), Windows 8.x or Windows 10
• Microsoft Internet Explorer 11 or higher
• processor with a frequency of at least 1.6 GHz with SSE2 support
• 4 GB RAM (8 GB)
• 5,2 GB of free hard disk space to install applications; additional 2.4 GB to download all available content (can not install on a volume that uses a file system is case-sensitive, or on removable flash storage devices)
• display resolution 1280×800 (at 100 percent scaling factor)
• Audio and video driver compatible with Microsoft DirectX 9 or 10
• To download additional content requires an Internet connection